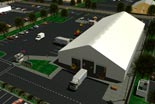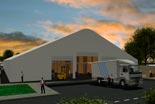 Work with Advance Building Systems to develop a solution to your equipment, piping, or waste facility needs. Custom leg designs, special door configurations, and complete HVAC and Electrical solutions are all available for your next project. Here is a list of some of the facilities we have designed and completed:
Mine Warehouses
EMT & CMT Facilities
Municipal Workshops
Aircraft Hangars
Semi-Portable Batch Plant Covers
Truck Wash Bays
Water Treatment Facilities
Waste & Recycling Facilities
Low-No Maintenance
Built using a hot-dipped framework and heavy cover materials, our buildings provide a long term facility with low-no maintenance. A once a year checklist will allow you to review the cover fastening systems, steel framework protection, and weather protection systems on your structure.
Timeline of Construction
Allow the team at Advance Building Systems to prepare a complete concept of your proposed facilities, and manage a smooth process of construction in a timeframe suitable to your need. From the ground up we can source the necessary services required to have you up and running.