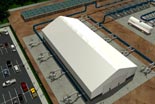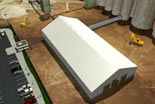 Select an Advance building for your next project, for the clear span interior, the adaptable leg height design, and the quick installation. An Advance building utilizes a translucent polyethylene membrane cover that allows natural light to pass through creating a bright interior atmosphere. Flame retardant cover material is available for commercial applications.
Truss Design
An Advance building utilizes an engineered truss design with truss depths ranging from 24' to 48' in standard building width configurations. Our engineering team analyzes each building design based on the local wind, snow, and rain loads for its destination to provide a steel truss that conforms to the building code.
Removal and Relocation
An Advance building is constructed as a permanent solution but with the ability to relocate it at a later date. Foundation options such as screw piles allow even a substantial portion of the foundation to be salvaged from a semi-permanent building project.
Proven Installation Experience
Our installation network is built from a reliable network of installers each with several years of experience constructing steel framed buildings. When combined with their safety record on past projects it creates a team that is second to none. We maintain our relationship with past dealers and installers across North America to ensure the latest construction techniques and advancements are used on our membrane covered buildings.